AAMA National Educational Conference
The CTSMA holds 4-5 online Business Meetings each fiscal year. We hold our meetings Saturday mornings at 8:30 am on www.gotomeetings.com. All members are urged to log into the meeting. All members whose dues have been paid by December 31, 2018, have to right to vote on a topic brought up during the meeting. These meetings are NOT just for the CTSMA Executive Board, these meetings are open to ALL CTSMA members. You will NOT receive any CEUs for attending. Please see the list of upcoming online business meetings.
63rd Annual AAMA National Conference
September 13-16, 2019
Greensboro, North Carolina
Save The Date for the 63rd Annual AAMA National Conference 3that will be held Sept.14-16th in Greensboro, NC. Registration Packets are not yet available, but keep checking back. More information will be posted as we get closer to the date!
2016 AAMA EXCEL AWARDS
The CTSMA won 3 AAMA National Awards at the 61st AAMA National Conference for Website Development, Newsletter and Community Service.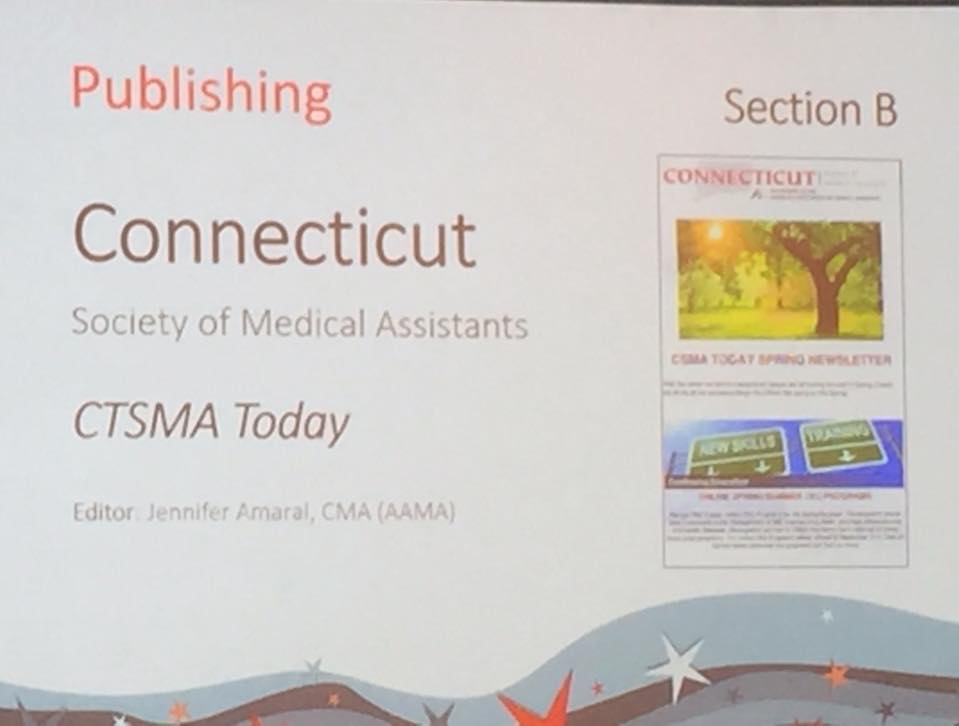 The CTSMA is looking for members to volunteer their time to help on one of the many committees that the society has. The CTSMA is a volunteer based organization. The success of the CTSMA is because of members that give back to their profession. The organization would not exist and continue to grow without this help. Over the last couple of years member participation has decreased causing us to look at restructuring the organization. Almost all of the committee duties can be done at home, meetings are held online, and correspondence is done over email or phone making it easy to help even with the busiest schedules. Click on the link below to learn more.
DELEGATES & ALTERNATES ORIENTATION MEETING
Sat, May 4, 2019 8:30 AM - 9:30 AM EDT
Please join my meeting from your computer, tablet or smartphone.
https://global.gotomeeting.com/join/191723085
This meeting is locked with a password : 2019
You can also dial in using your phone.
United States: +1 (872) 240-3212
Access Code: 191-723-085
New to GoToMeeting? Get the app now and be ready when your first meeting starts:
https://global.gotomeeting.com/install/191723085
Conference Online Planning Meeting